I always look forward to Spring and the coming of the eagle cams! Right now there are cameras on two nests in BC. I can't wait to see the little eaglets emerge from their shells and start to grow. It's been something I've looked forward to every Spring since 2006.
Here's the Sidney mom and dad. They take turns sitting on the two eggs and bringing their mate food while they brood.
And here's the Hornby Island mom (or dad, it's hard to tell sometimes) waiting to be relieved for a while. They have one egg but we're expecting another any day.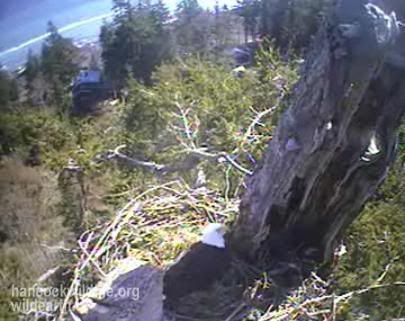 It's so interesting, and sometimes heartbreaking, to watch the little ones grow and learn to fly. Last year was too exciting. If you remember I posted about the eaglet falling out of the nest and other things. I hope this year is calm.
This is the link to the forum. If you want to watch the cams just click on live cams.
Eagle forum